Montmartre is a budget fashionista's heaven. Ask a friend of mine who went home to Canada with seven pairs of shoes and an extra luggage of clothes she got on a shopping spree here.
That you can replenish your wardrobe weekly without your wallets feeling guilty is no secret to most women in Paris. They throng here every Saturday to grab a Sinequanone coat, a Kookai dress or a pair of Mexx pants.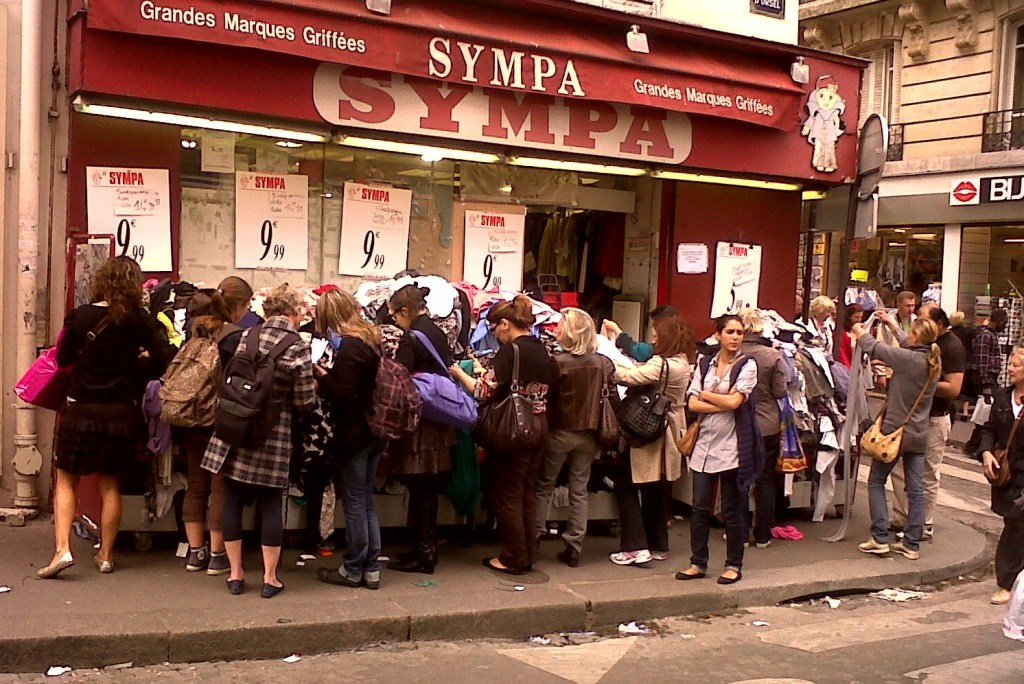 You see, the Montmartre for budget fashionistas have these shops called Sympa selling branded clothes for at least 75% less of its original shop or boutique prices. And most even come in their original packaging.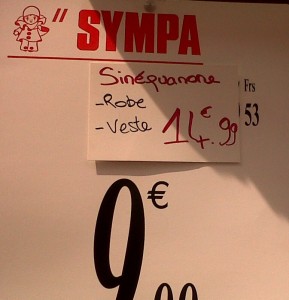 How could they do that, you ask? Well, we suspect they are the bulk buyers of French catalogue overruns, and perhaps even the major boutiques' unsold stock. They renew their supply twice weekly: on Wednedays and Saturdays.
The Sympa shops are no-nonsense shops. Every inch inside and out, is occupied with racks and big deep baskets of clothes – from coats to underwear – with just enough cleared space leading you to the tills.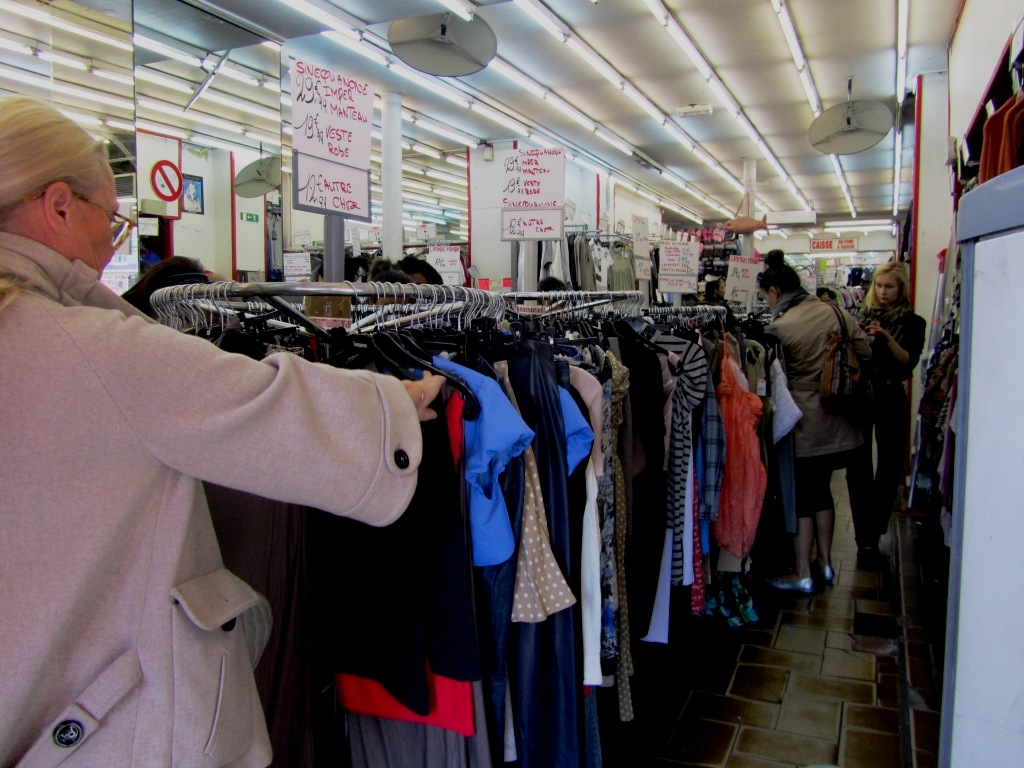 The best time to shop in Sympa is during the week. Forget the week-ends, when most women, normally in their offices Monday to Friday, come to shop for themselves and perhaps the entire family too.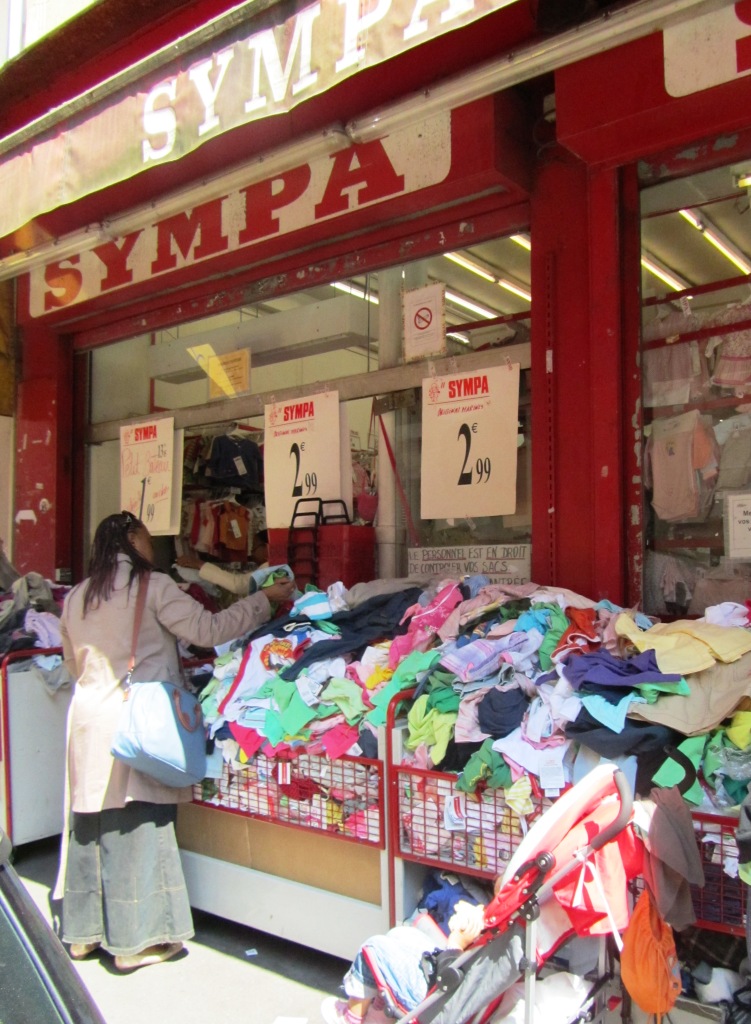 Forget wanting to try out the items too. Sympa shops don't have space for fitting rooms. And even if they did, you would probably wait hours to get your chance in.
The best bargains are found outside by the shops' sidewalk, where mountains of T-shirts, skirts, underwear (you name it) are waiting to be mined.
There are at least five Sympa shops dotted around Montmartre, (down from seven originally because two of them had to be shut after being damaged by the fire that closed the Elysees Montmartre.)
If you come to shop at Sympa, here are some things to keep in mind:
1)      Know your size (American, German, UK or French). If possible, bring your measurements for the waist, the chest and the hips in case you find that perfect Mexx pair of pants. And why not bring the measuring tape as well?
2)      Although most items come in their original packaging, check the pieces you've "mined" from the outside boxes for working zippers, missing buttons and most importantly for tears or holes. Yes, there are those in there.
3)      Most importantly, keep your money and other valuables close to your body. Shoppers busy looking for that bargain let their bags hang out by their side, picking-perfect for slick-fingered thieves. (My mom-in-law was pickpocketed twice while digging in there.)
4)      They only accept credit cards for purchases of more than 8 euros.
How to get there? Take metro line no. 2 and get off station Anvers. Two are in rue Steinkerque, two by Blvd.  Rochechouart (from station Anvers, turn right down the boulevard) one by rue d'Orsel (same street where McDonalds is).
Oh, I did say something about  shoes too, didn't I? Well, that would be for the next post  😉
Visiting Paris soon? Be your own guide!