At least in Montmartre, the "macarons fever" is very recent. Two years ago, it was not part of the offerings of the boulangeries or patisseries in our neighbourhood. Almost overnight late 2009 , every  one of them, big and small, had them. "Tourists keep asking for them," says my favourite boulanger/patissier as some sort of explanation.
But there is more to sweet Paris than just macarons. Just step into any patisserie you will find in every street corner of the city and your sweet dreams will be more like a delirium. I promise you, macarons will be the last thing you will look or ask for.
Tom Reeves of Discover Paris has listed some of his favourites to guarantee you a sugar hit when you come visit. (And two of them are in Montmartre! Hooray for my sweet tooth!)
Paris Sweets for the Sweet
Guest post by Tom Reeves
Paris abounds with bakeries that propose all types of pâtisseries as well as traditional breads and croissants. Fruit tarts, chocolate desserts, and cakes are yours for the asking!  There are also numerous boutiques that sell fine chocolates and shops that sell ice creams and sorbets that will not fail to satisfy your sweet tooth. Here are some of our favorites:
Amorino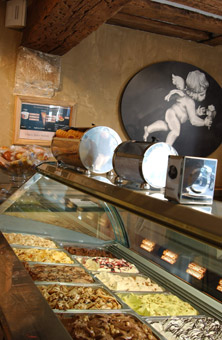 This chain boutique sells Italian gelato. While universal flavors such as chocolate, pistachio, and coffee are served here, traditional Italian flavors such as stracciatella (vanilla with chocolate shavings), bacio bianco (white chocolate and hazelnut), and the subtle but sublime crema (cream) are offered as well.
North American ice cream has a much higher percentage of air and fat (which masks true flavors) than gelato. Gelato is thus a smoother, denser, frozen treat that bursts with flavor, but often contains less than half the fat of American ice creams (and can therefore be enjoyed with less guilt!). There are numerous Amorino outlets in Paris; including one in the 18th arrondissement.
Amorino, 39 rue des Abbesses, 75018 Paris. Tel: 09.53.12.87.94. Metro: Abbesses (Line 12) or Blanche (Line 2). Hours: Open every day from 12 noon to 11:30 PM
Berthillon
Berthillon is the quintessential French ice cream producer.  The original site on the Ile Saint-Louis still produces between 30-35 varieties of ice cream and approximately 30 different sorbets each year. They are sold in numerous shops on Ile Saint-Louis and around Paris. Monsieur Berthillon himself purchases the fruits that are used in the company's ice creams and sorbets, and ensures that they are used the moment that they arrive at the production facility.  He also carefully selects the water used to make the syrup that is used in the sorbets.
Berthillon on rue Saint-Louis-en-l'Isle is also a salon de thé. You can enjoy your ice cream and other goodies on the premises.
Berthillon, 31 rue Saint-Louis-en-l'Isle, 75004 Paris. Tel: 01.43.54.31.61. Metro: Pont Marie (Line 7). Hours: Wednesday through Sunday from 10 AM – 8 PM
Les Petits Mitrons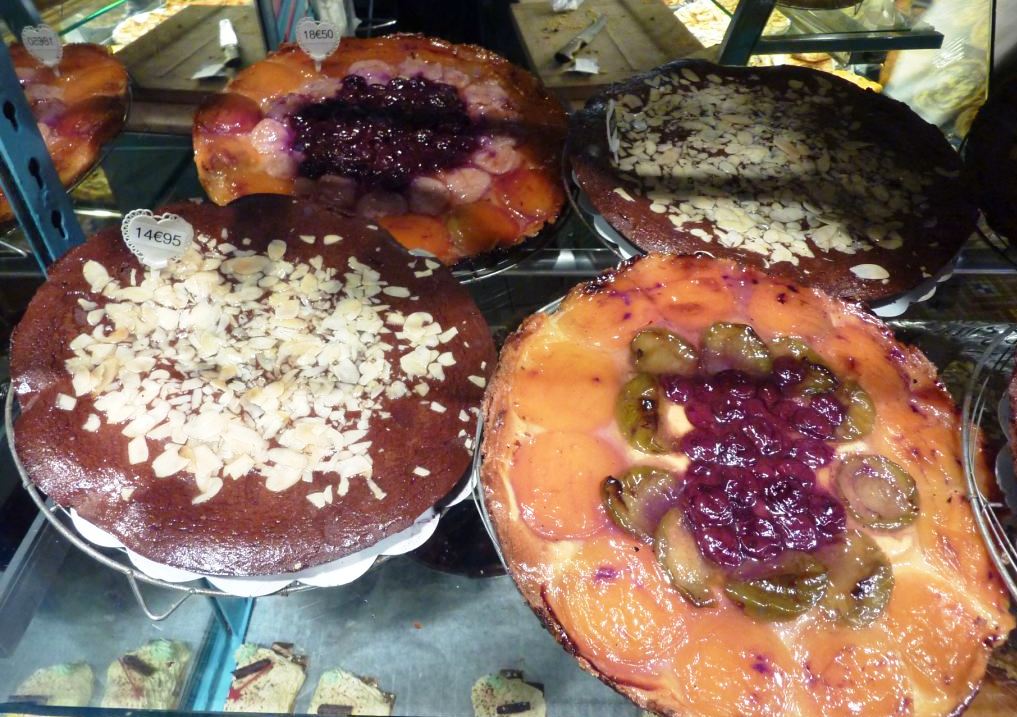 This old-fashioned bakery on rue Lepic in the 18th arrondissement is said to have the best fruit tarts in Montmartre!  We recently sampled their tarte au chocolat-poire (chocolate and pear tart), and were thoroughly impressed. We found their tarte au citron (lemon tart) to be unusual, with a filling reminiscent of a French cheesecake.
Their cookies also have an impeccable reputation – they were still coming out of the oven when we visited the shop at 6 PM on a Saturday evening!
Stop by and see for yourself!
Les Petits Mitrons, 26 rue Lepic, 75018 Paris. Tel: 01.46.06.10.29. Metro: Blanche (Line 2). Hours: Thursday through Tuesday 7:30 AM to 8:00 PM.  Exceptionally, open Wednesdays during the 2010 Christmas holiday season.
Jean-Charles Rochoux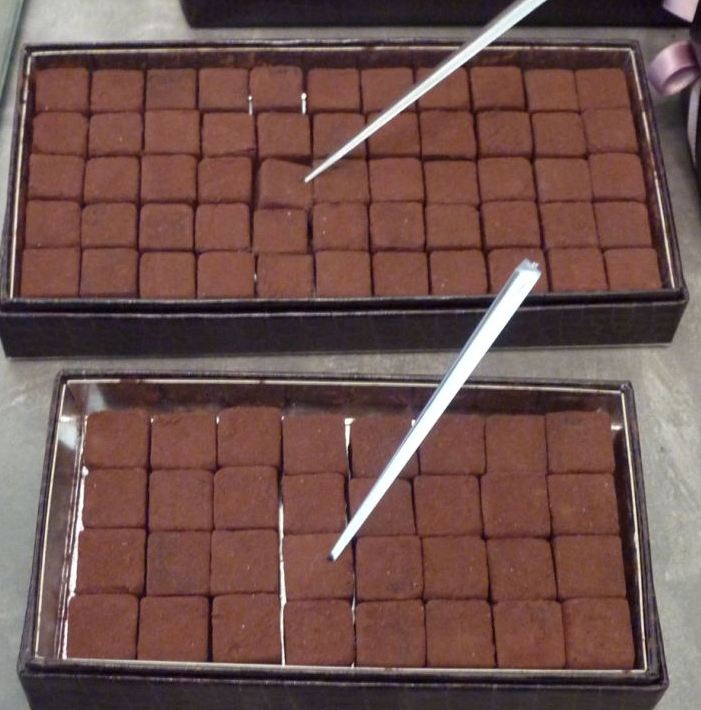 One of the most unusual chocolate boutiques in Paris is that of Jean-Charles Rochoux. We love it for a number of reasons, including the fact that Rochoux's remarkable, cube-shaped truffles won the Discover Paris! truffle tasting held in January 2010.
The Maker's Mark and Habanos' ganaches are not to be missed, and the Tablette du Samedi – a fruit-filled chocolate bar sold only on Saturdays – is sublime! Each week it contains a different fruit.
Jean-Charles Rochoux, 16 rue d'Assas, 75006 Paris. Tel: 01.42.84.29.45. Metro: Saint-Sulpice or Rennes. Hours: Monday 2:30 PM to 7:30 PM; Tuesday through Saturday 10:30 AM to 7:30 PM

Tom Reeves is a confirmed Francophile since he first traveled to France in 1975 to pursue a diploma in French language, literature, and civilization. He returned to California in 1978 only to move back permanently to Paris in 1992. He founded Discover Paris!—a travel planning service catering to Americans interested in cultural travel to Paris.  His recently published book, "Paris Insights – An Anthology", has been called "the kind of insider's view of the French capital…that visitors pine for." Read his monthly newsletter Paris Insights and follow his  blog that offers a free, weekly restaurant review.  Find Tom on Facebook and don't fail to sign up for his free Practical Paris guide.
Visiting Paris soon? Be your own guide!