One can imagine many are now casing out flights to France and searching out  vacation rental flats for 4 weeks and more with the aim of "experiencing Parisian life like a local."
For our studio guests who do this, we always tell them that part of that total experience is to go on day trips outside Paris, rounding up their stay with a glimpse of "provincial France". Parisians, after all, are known to desert the capital for some rural rest on week ends and during school holidays.
There are many interesting small French towns that are just an hour or two away by TGV or regional trains. There's Rouen (capital of Normandy), Amiens, Reims (Champagne country), Le Mans, Lille, Trouville/Deauville (beaches, casinos and over all a party town), Chartres (Cathedral). We've been to almost all of them, timing our outings to the periods when the SNCF have their special offers. (We are budget travellers, after all).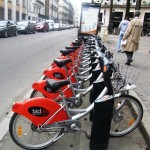 Our most recent day trip Paris to Nantes was just two hours away by TGV. This time, we chose to stay for a week-end because we could not leave with the earliest train and we were on a holiday mood. Otherwise, we could have taken the earliest train in and the last train back, giving us enough time to see and experience the town's best offerings.
You can either walk all throughout the day visiting the sites of Nantes, or you could opt to rent a bike, the Bicloo (Velib in Paris).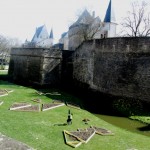 From the train station, we walked to the city centre and soon enough were right at the back of the castle of the Dukes of Brittany and Nantes, which is now a museum and watched locals settling themselves on the grassy former moat, either to play or just to soak in the sun.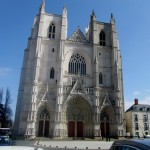 Further in, we passed the gothic Cathedral famed for being the most beautiful restored cathedral in France.
We got to the Place Royale right after and just in time too. We were thirsting for coffee and that was the place to find one. The many open air cafes were filling up with week-enders like us.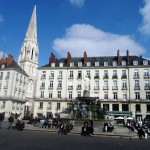 After a relaxing cup of coffee, we head to catch the tramway line no. 1 to get us to the Gare Maritime where the Navibus (river boat) would bring us to the little fishing village at Trentemoult. The fishermen are not there to be seen anymore, but the quaint houses and ruelles will certainly be worth seeing.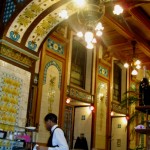 Then it was time for a late lunch. In and around the Place Royale are small bistros and French "fast food" (boulangeries) if you fancy a light lunch (light on the tummy, light on the wallet). But I would strongly suggest you get yourself to the sumptuous brasserie La Cigale, the place to eat when in Nantes. Go there around 2 pm to be sure of getting a table. They are open the whole day. Don't worry, your wallet will not wince and you will feast on the excellent food and your eyes on the decor. Service was very friendly too.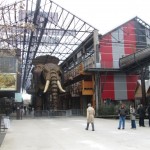 After lunch, it's time to head to the Ile de Nantes for the town's most popular attraction, the mechanical elephant. There normally is a long queue for tickets to get on the elephant and would cost 7 Euros per person for the ride. But frankly, save your 7 Euros for something else.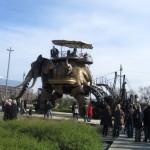 The ride was a disappointing noisy experience. You won't see the elephant while riding on it and from that high perch, there's nothing worthwhile observing anyway. Best really to just stay on the ground and watch the mechanical pachyderm trumpet out steam and slowly stroll. Believe you me, it's a spectacle!
After all that excitement with this circus show, you can go back to the mainland and visit the Passage Pomeraye, a 3-level 19th century shopping arcade. See the objects the chocolatiers of ____created – a lady's stiletto, a handbag, two giant lipsticks and a replica Jaguar, all out of that sinful stuff.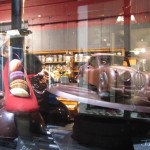 There's one more site to see on your walk back to the train station. Right near the train station is the famous Tour de LU. It was in Nantes that the biscuit factory of LU had its main site but has since been turned into a theatre/museum.
.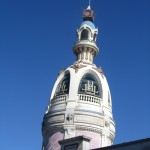 With these, you've basically seen all the worthy places that the Tourism Bureau of Nantes recommends in their brochure.
All in one day from Paris.
To facilitate easier navigation around Nantes and save you time, check out the Nantes' Tourism Bureau's advice HERE.
Visiting Paris soon? Be your own guide!